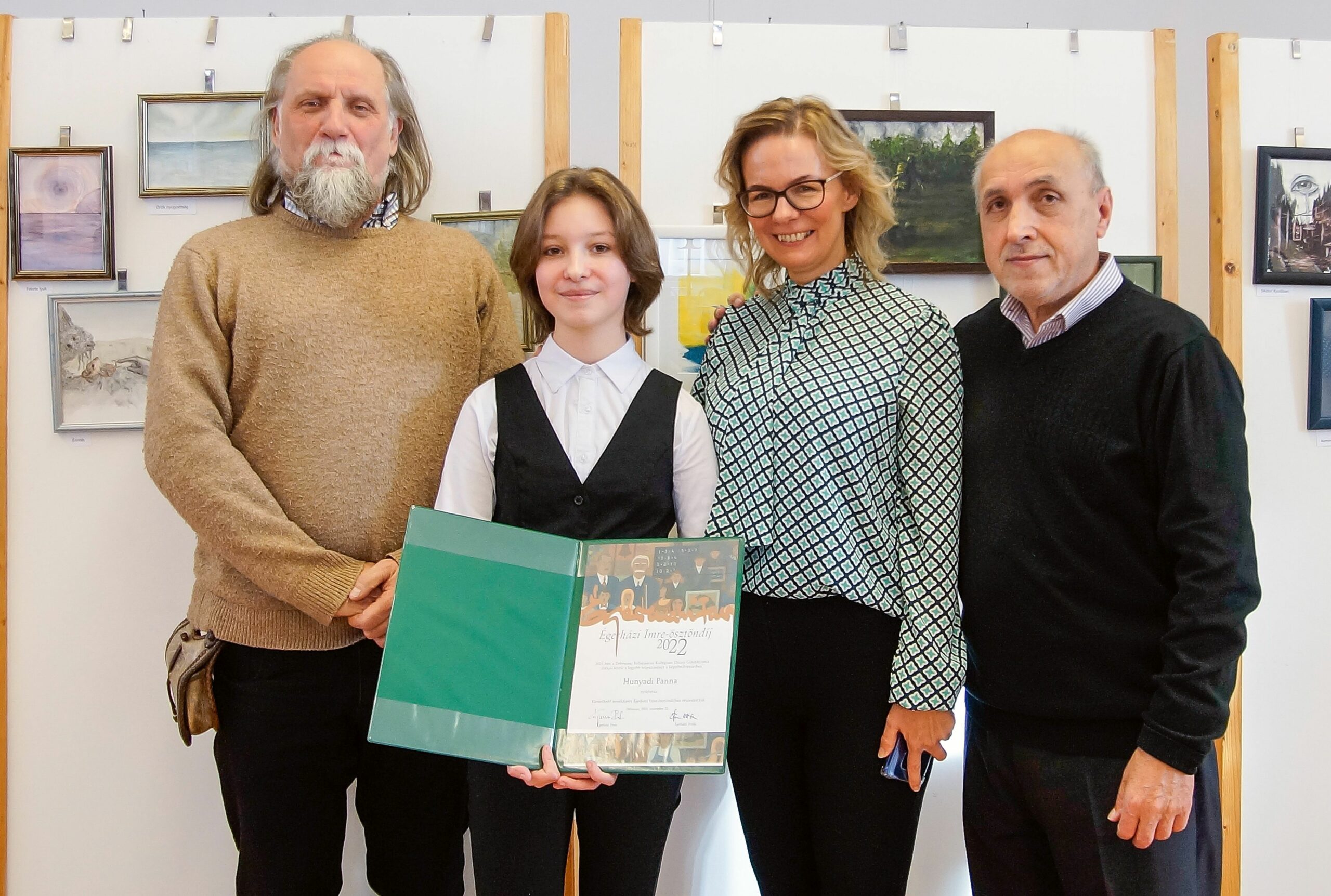 After the ceremony Buka László, Hunyadi Panna, Szombatiné Néma Mónika és Égerházi Péter
Although late, a talented student of the Dóczy high school received his recognition this year as well Panna Hunyadi.
For 18 years now, the start of school in September has been accompanied by the presentation of the Égerházi Imre Alkotó Scholarship at the Dóczy high school. This year, however, the student with the best performance in fine arts in the previous academic year had to wait until now to receive the award, because this year brought significant changes. László Buka, the art teacher who proposed the prize winners, retired and passed the baton to Mónika Szombatiné Néma, who also took over the role of proposer.
Due to the change, the traditional award ceremony could only take place this week, on Tuesday, in the gallery of the high school. The usual ceremonial program began with the piano performance of Hanna Havrics, a 9th grade student, and the director of the institution, Katalin Czapp, greeted the attendees, including this year's prize winner, Panna Hunyadi from 9th A, as well as her parents and relatives. After a short appreciation of her drawing teacher, the young girl received the certificate certifying the achievement from Péter Égerházi, the representative of the heirs who founded the award. She said about a few words about herself. She was introduced to drawing with the right hemisphere of the brain at an early age, but only later started drawing again under the influence of a friend. First she liked to depict animals, then people, and she took a liking to portrait painting, which took on a new impetus at her 12, when she received his first acrylic painting set from her parents. After a while, the hell of the war began to preoccupy her, and she repeatedly put on paper background stories she had created, as well as she felt while listening to music. Despite her young age, she enjoyed studying the works of old great artists, but she was also influenced by surrealism. She has developed her own style, and feels that her continuous development is based on drawing every day.
László Buka also praised his former student in a few words, and after that, Júlia Tóth from 10th grade recited Gyula Juhász's poem Csipkerózsa. In the rest of the ceremony, Mónika Szombatiné Néma thanked Gáborné Rózsavölgyi, who donated two Égerházi paintings to the Dóczy Gallery.
ÉP